Children's Classes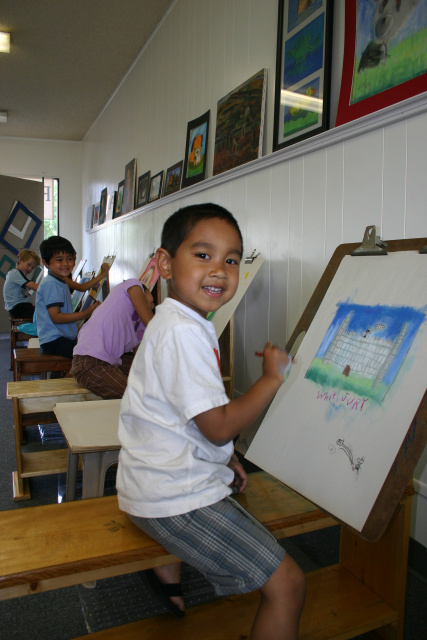 Does your child love to draw?
With our structured children's program (The Gluck Method), kids will learn basic skills and fundamentals of classical art. Using a step-by-step method, students will begin in charcoal drawing and soft pastels, advancing into both watercolor and oil painting.
Classes are 11/2 hr long and ongoing, so every child will learn at his or her own pace. With no more that 7 students per instructor, each child is ensured individual attention.
Students must be at least 5 years of age to attend.
Children's Class Schedule
Monday

---

Tuesday

---

Wednesday

---

Thursday

---

Friday

4:15 - 5:45pm

**6:00 -7:30pm

**4:15 - 5:45pm

4:15 - 5:45pm

6:00 - 7:30pm

3:15 - 4:45pm

5:00 - 6:30pm

**4:30 - 6:00pm

Saturday
9:00 - 10:30

11:00 - 12:30
**Classes are full - please ask to be placed on a waiting list
Teen and Adult Classes
Have you always wanted to be an artist? Now you can learn all the techniques needed to create beautiful drawings and paintings.

Stop by for a personalized consultation to discuss your needs and wants. Normally, we start off learning the basics of drawing with and then move on to discovering the world of creating life-like form with the use of charcoal. One can then learn the wonderful mediums of pastel, watercolor, and oil painting. Personal coaching enables you to learn at your own pace in our classes. All adult classes are 2 hours long and teen (13-17) classes last 11/2 hours.
Teen/Adult Class Schedule
Monday

---

Tuesday

---

Wednesday

---

Thursday

---

Friday

7:45-9:15(13-17yrs)*

6:00 - 8:00pm*

10:00 - 12:00pm

6:45-8:15pm (13-17yrs)*

10:00 - 12:00pm

6:30-8:00pm (13-17yrs)*
**Classes are full - please ask to be placed on a waiting list